Istituto Linguistico Mediterraneo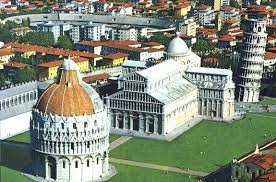 Pisa, Viareggio
Since 1981 Istituto Linguistico Mediterraneo has been offering the students from around the world a possibility to learn the Italian language in Tuscany, one of the most beautiful Italian regions. A landscape of extraordinary beauty, mild climate and countless monuments of this region ensure the course participants an attractive stay. While spending time with the Italians you will have a chance to meet lots of new friends, taste the Italian lifestyle and most of all acquire in a simple and natural way the language structures and forms learned during classes and then use them in real situations.

Our success foundation rests in the teachers – young professionals full of enthusiasm who, by making use of the textbooks prepared by our school and the audiovisual materials, will introduce you to the secrets of the Italian language in a pleasant and accessible way. A result of the initial test allows us to create homogenous groups according to the language abilities and also motivation of the students.
The classes are delivered in groups with a maximum of 12 students, from Monday to Friday, 4 lesson hours per day (20 hours per week). The courses contain 4 levels. Each level is carried out based on a separate textbook prepared by the school, containing grammar, exercises and conversation teaching materials. It is provided for each attendant free of charge. On the last day each student receives a course completion certificate. After completion of a course the students have a possibility to take a written and oral exam and based on its result they receive a certificate of Istituto Linguistico Mediterraneo with a corresponding grade. People who are 16 years old are eligible to enrol for the courses. In case of minors under age 16 a written permission of their parents is necessary. The dates provided in the schedule concern the courses for the beginners. In case of higher level courses it is also possible to start learning at the beginning of 2 and 3 week of each month. Having completed the initial test a participant is assigned to a group at the level which corresponds to their skills.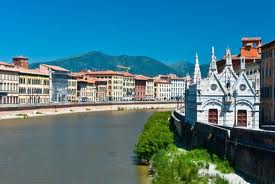 Pisa
Pisa is a city situated in the heart of Tuscany, very interesting in terms of history, culture and tourism. It is not far from such famous destinations as Florence, Lucca, Volterra or Sienna, only 12 km from the sea (it is possible to cover this distance by city buses in only 15 minutes).
In Pisa there is the most important airport in Tuscany which is connected with the whole Europe.
From June to September the students of the school may take advantage of Tirreni bathing resort. This seaside resort is situated only 15 km from the school. There are also two golf courses situated 200 m from the sea. Visiting Pisa and also the trips to major cities of Tuscany with our teachers, who act as guides, complement the programme of a stay (the course fees do not include the cost of trips).
Enrolment and forms of payment

In order to enrol on a course it is necessary to:
Fill in an application form and send it to the address of Centro Italiano di Cultura
Pay in cash or by bank transfer the equivalent of advance payment in zlotys according to that day's rate of exchange to the benefit of:
Centro Italiano di Cultura, Pekao SA o/Bielsko-Biała - 66 1240 6449 1111 0000 5277 2324
In the payment title please provide the name of a chosen school
Present a proof of advance payment at the office of Centro Italiano di Cultura
The remaining amount payable in the office of a school in Italy
It is possible to enrol in person at the school's front office or by means of e-mail. In this case it is necessary to send by post or fax a proof of advance payment.

A person who resigns from a course shall notify Centro Italiano about that fact at least 45 days prior to course commencement. After this deadline the advance payment shall not be reimbursed.
PISA "ISTITUTO LINGUISTICO MEDITERRANEO"

Standard course GA – 20 hours per week

The price of the course includes: enrollment fee, classes, initial test, course completion certificate.
Accommodation in the apartment includes: a possibility to use an equipped kitchen, bathroom, bedclothes, however it does not include cleaning or towels during the students' stay.
Accommodation with a family includes: breakfast / dinner and bedclothes, however it is not possible to use a kitchen, washing machine, iron and towels.
Examples of trips organized by Istituto Linguistico Mediterraneo:
Visiting the Cathedral in Pisa
Lucca
Florence
Cinque Terre
Siena, San giminiano
Cave del marmo Carrara
Chianti and wine degustation
Golf Baratti, archeological park, borgo Populonia
Weekend in Rome

Events at the beach, pizza party at the School, visiting Pisa/Viareggio – free of charge