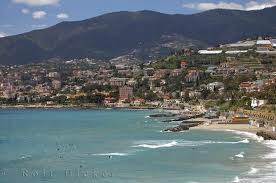 OMNILINGUA School
The City of Sanremo
Sanremo, surrounded by fabulous scenery where characteristic stones alternate with the blue of the Ligurian Sea, is located in the eastern part of the Ligurian Riviera which spreads along Cinque Terre Coast up to Monte Carlo on Côte d'Azur (55 km from the airport in Nice in France).
The city is popularly known as "City of Peace" or "City of Flowers". Typical of Sanremo are: famous theatre "Teatro Ariston", where the Italian Song Festival takes place, palm avenues, elegant boutiques and market squares which make the city a symbol of "Riviera dei Fiori". The Old Town is an excellent example of architecture of the late Middle Ages. Owing to many artistic, cultural, sport events and mild climate Sanremo is a holiday paradise. The city is tidy and full of flowers. Its population amounts to 60,000 and the residents of Sanremo are frank and friendly.

More information can be found at:

The school
Omnilingua is situated in the very centre of Sanremo, close to famous "Casinò Municipale", the Old Town and proverbial "two steps" to the sea. The antique building, where a seat of the School is located, has great literary and academic tradition reaching the year 1940 when a famous Italian writer, Italo Calvino, was studying there. By imitating his example, the objective of "Omnilingua" is to prepare a lesson at the highest level in a friendly atmosphere, by making use of teaching methods and by putting emphasis on conversation skills. Teachers employed by the School have high qualifications and many years' experience in teaching foreigners the Italian language. All of them are Italian and speak at least two foreign languages.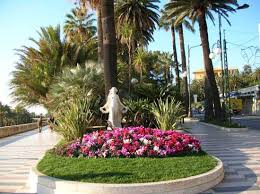 Teaching materials and teaching method
Groups are usually small, 8-person which allows a teacher to devote a suitable amount of time to every student and to create a nice atmosphere which favours conversations and discussions.
From the very first day the classes are delivered in Italian. Apart from conversation skills, it is very important for Omnilingua to provide the students with solid grammar skills which is the basis for good knowledge of both spoken and written language.

Studying at Omnilingua can be compared to full-immersion experience as the students are in contact with the Italian language in its all forms. Teaching materials, which are systematically updated, add variety to the classes in an original and creative way. These are, among others, newspaper articles, song lyrics, literary texts, DVDs, CDs, Internet, television. Use of this type of materials makes it easier to bring the students closer to the Italian mentality and to provide them with a lot of interesting and necessary information.

Certificates
After completion of a course each participant receives a certificate indicating the type and the level of a course they have attended.

Additional activities
In the opinion of the School's staff studying a language does not end in the class. In order to provide the students with the biggest possible contact with the country's reality, Omnilingua organizes interesting additional activities which educate, motivate and amuse students of different age. The programme contains trips to interesting destinations: "Bussana Vecchia" (medieval town, at present inhabited by artists), "Villa Hambury" (visiting one of the most beautiful gardens Riviera dei Fiori), Imperia (Museo dell'Olivo), visiting grapevine plantations and many others.

The programme also includes the evenings spent with the tutors. Their objective is to create a friendly atmosphere and cultural exchange. These types of evenings include outings to pizzerias, wine degustation, concerts, cinema, movies screening at school (free of charge), and parties at the beach.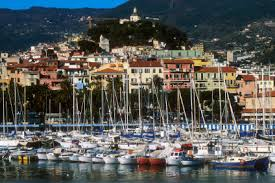 Types and levels of the courses
Standard course
Group classes, 4 hours per day from Monday to Friday from 9.15 a.m. to 1.00 p.m. (20 hours per week), in summer the afternoon version is possible from 1.45 p.m. to 5.25 p.m.
Standard PLUS course
4 hours in a morning group and one individual lesson in the afternoon (20 hours per week in group and 5 one-to-one lessons). A lesson hour is 50 minutes long. This option is ideal for those who, apart from group classes, would like to take advantage of individual consultations.
Intense Course
6 hours per day in a morning group from 9.15 a.m. to 1.00 p.m. and two hours per day in the afternoon from 1.45 p.m. to 3.25 p.m. (in total 30 hours per week).

four language familiarity levels:
livello base
livello elementare
livello intermedio
livello avanzato

Enrolment and forms of payment
In order to enrol on a course it is necessary to:
Fill in an application form
Pay in cash or by bank transfer the equivalent of advance payment in zlotys according to that day's rate of exchange to the benefit of:
Centro Italiano di Cultura, Pekao SA o/Bielsko-Biała - 66 1240 6449 1111 0000 5277 2324
In the payment title please provide the name of a chosen school
Present a proof of advance payment at the office of Centro Italiano di Cultura
The remaining amount payable in the office of a school in Italy

It is possible to enrol in person at the school's front office or by means of e-mail. In this case it is necessary to send by post or fax a proof of advance payment.

A person who resigns from a course shall notify Centro Italiano about that fact at least 45 days prior to course commencement. After this deadline the advance payment shall not be reimbursed.